This page shows the hardware we have forged and cast to use with doors that "slide" rather than swing on hinges. We have largely copied the work of craftsmen in previous centuries, using the design perfected by them for moving doors, sometimes very large doors, with relative ease. We have used these on several projects where clients have restored historic timber-frame barns to use as homes. The hand-forged iron frames with cast bronze wheels compliment the huge hand hewn posts and beams found in these magnificent structures.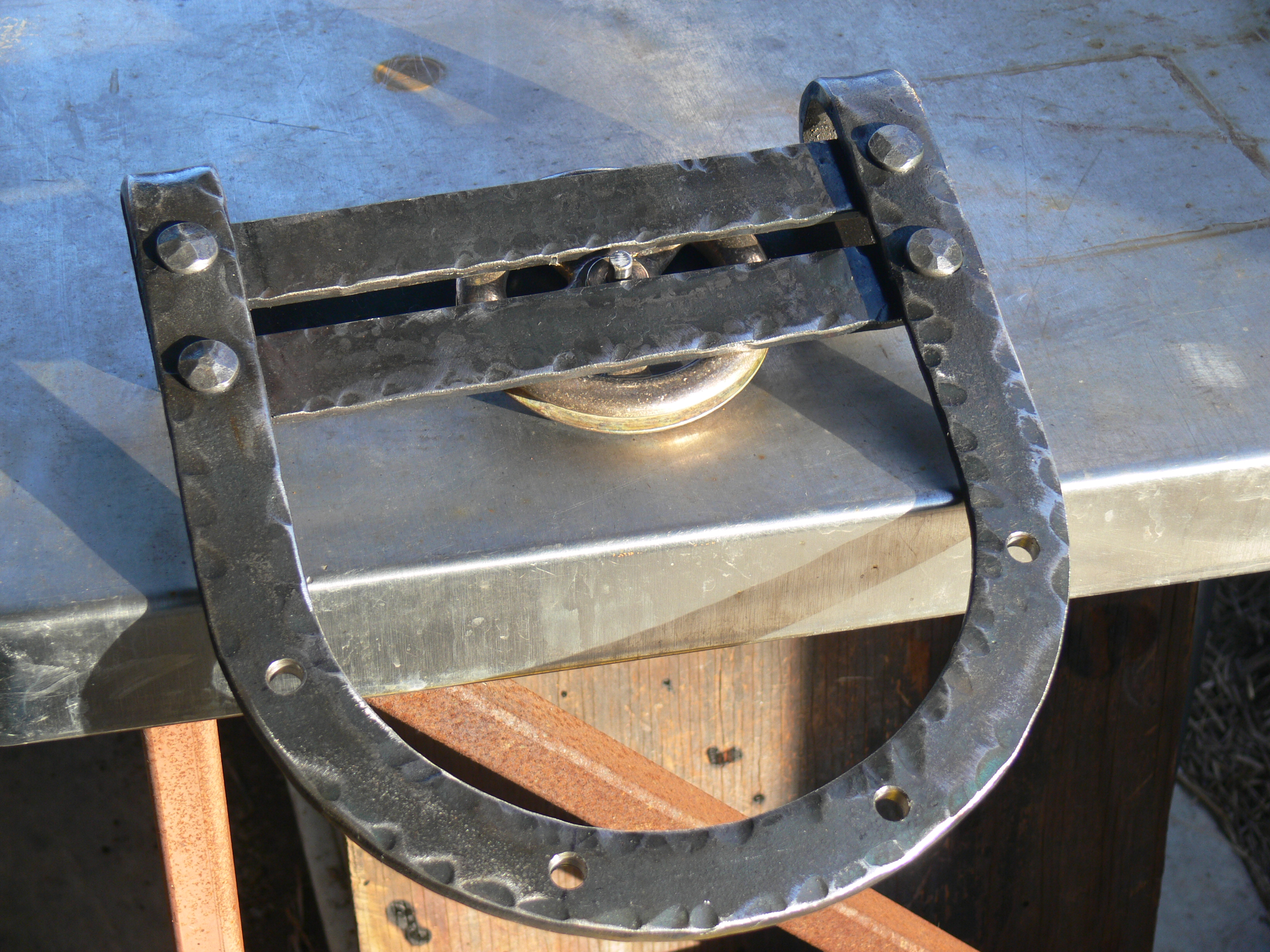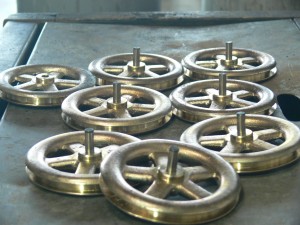 These sand-cast bronze roller wheels have been machined and wire wheeled with their hardened dowel pin axles pressed part way in, ready for installation into the forged iron frame. Approximately four inches in diameter, they allow even large heavy doors to roll smoothly along the door track.
Part of the beauty of this age old design is in its functionality. Even a large barn door weighing nearly four hundred pounds can be opened or shut with a finger! We have made the "rolling frames" in different sizes to accommodate their use on smaller interior doors in modern homes. We offer them in different finishes to better blend into a wide variety of decorating styles, from the natural beauty of buffed and waxed iron to paints. The appeal, in any case, comes from the character found only in hand wrought work in contrast to the mass produced pablum of our modern world.
Medium size rolling frames are priced each. A pair is required for each door. Square head lags are supplied with each frame for mounting to your door. Please specify length of lags desired. Finish is waxed. Contact us with any questions or particulars.   $455.00 each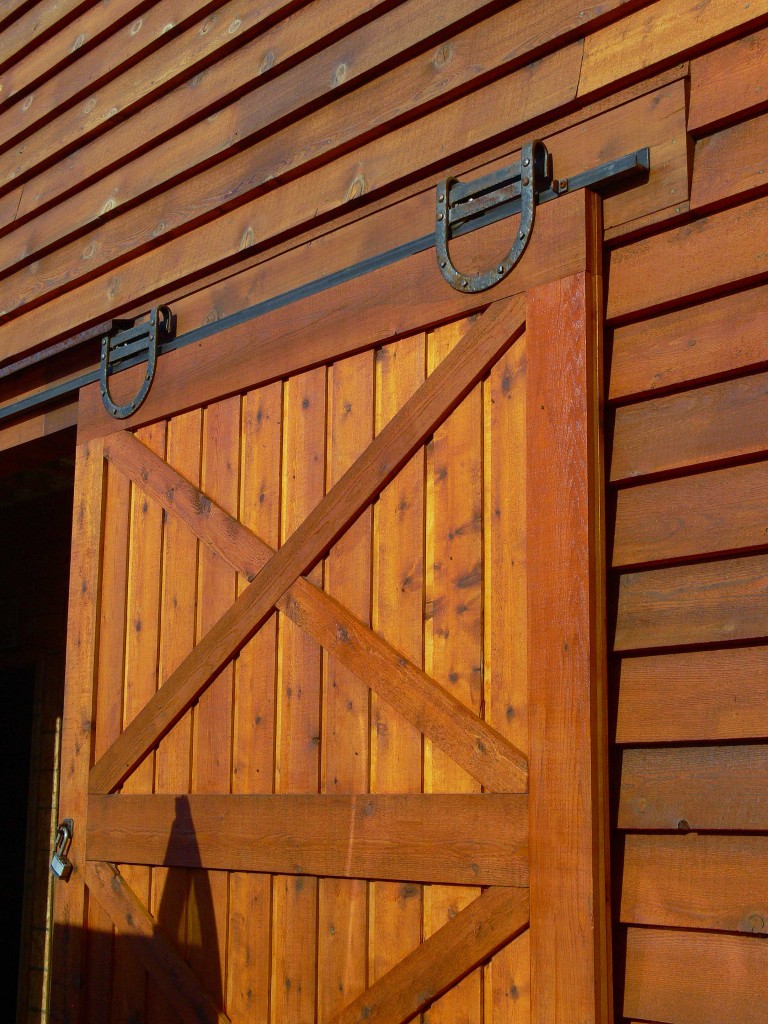 This is a smaller version of rolling door hardware. It will still carry a substantial load but the overall size and style lends itself to smaller scale doors such as those found inside a building or home. The same sand-cast bronze wheels found on the larger rolling frames are used. The forged steel strap measures 3/8 inch thick x 2 inches wide.
Single strap rolling frames: priced per pair including square head lags for mounting on your door. Please specify what length lags you desire.      $575.00/pr.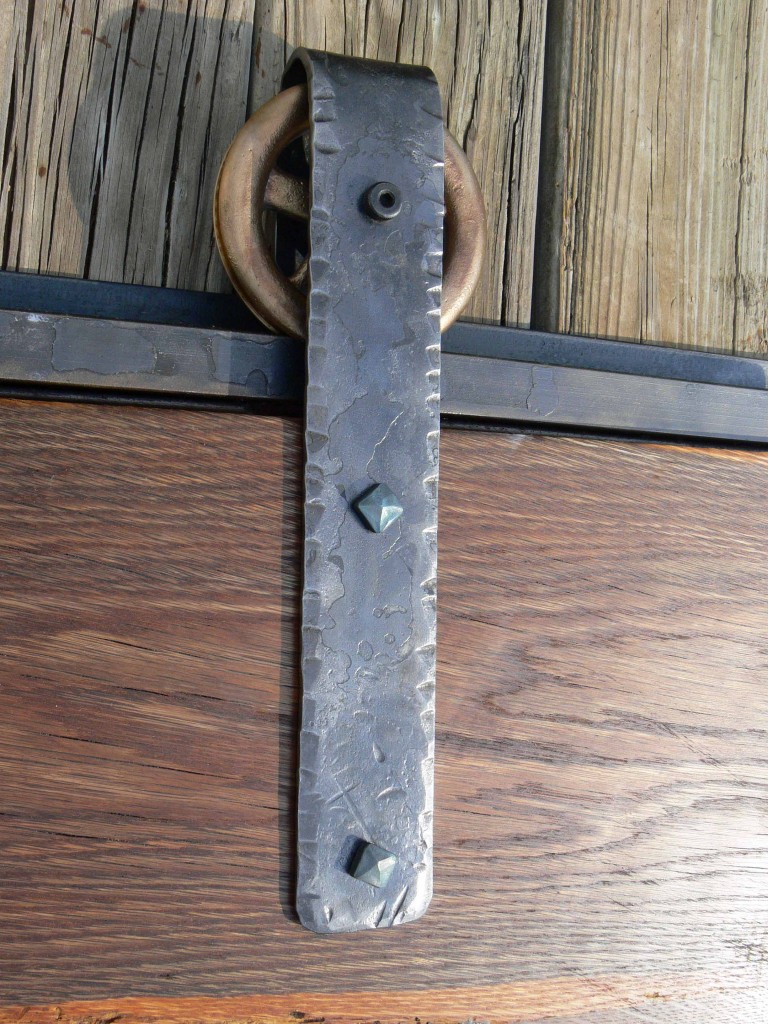 To complement the overall look of our forged iron hardware, we include the necessary quantity of lag screws to attach them to the door. We start with a "modern" hex headed lag screw. These are run through the forge to bring them to red/orange heat and then the heads are reshaped to square with facets on the face. The lags are then buffed and waxed while still hot to give them a darker color. The added character of an old style square head bolt or lag adds another dimension to the hand wrought appeal of our hardware.